PTW Branch Operations feature of the week – Grande Prairie
Focused primarily on electrical and instrumentation (E&I) construction and maintenance, Grande Prairie is one of our larger PTW branches that provides daily maintenance services to some of the large oil and gas producers in the region. This branch also has staff available for various shop repairs and valve re-builds at their location, and their branch includes a fully stocked warehouse with equipment. The team is also well-experienced in upgrading Programmable Logic Controllers (PLC) at client facilities to help guarantee projects remain on time with minimal production disruptions.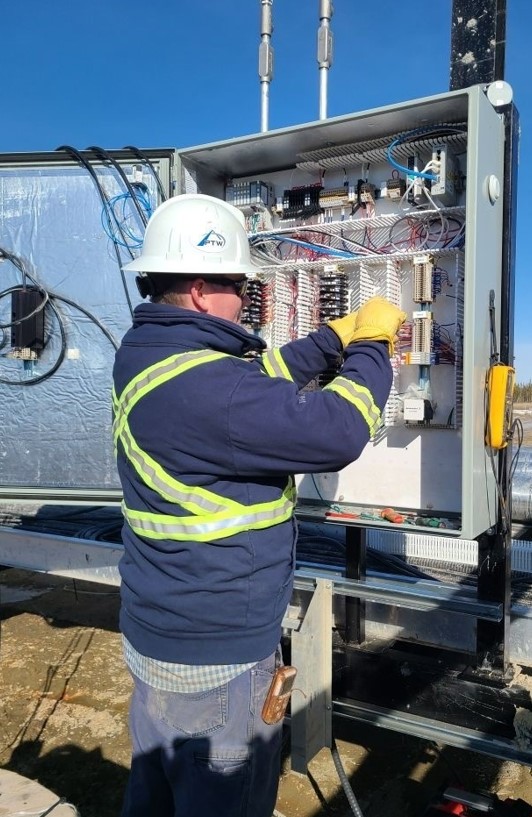 A lot of this work is needed for older facilities as the equipment currently utilized is either obsolete or parts needed for repairs have become harder to find. Some of the challenges in upgrading PLCs includes tracing circuits, locating devices, and interpreting drawings of the facility. Our teams are able to successfully upgrade PLCs on time and under time constraints, regardless of challenges faced, in order to help clients upgrade their PLCs and ensure their operations are running efficiently for years to come.
This branch has been involved in some exciting projects and recently assisted in completing a pilot carbon capture project alongside our major projects group that will capture and reduce greenhouse gas emissions. Currently, the branch is working on wiring a new substation building that will be adding capacitors onto operations to stabilize the power grid in the area, that once complete, will provide the region with more stable power for years to come.
Like many of our branches, Grande Prairie is actively involved in giving back to its local community and last year, our Grande Prairie branch provided free upgrades and repairs to the Grande Prairie Friendship Centre. The Friendship Centre is a non-profit, Indigenous facility that was created to deliver programs that meet the needs of Indigenous people in the local community who are migrating to urban centres and bridge the cultural gap between Indigenous and non-Indigenous communities through a variety of initiatives. As part of the facility upgrades, the Grande Prairie branch provided free labour and material, upgraded all lighting and corrected any electrical deficiencies. Roughly 160 hours of free labour was provided, in addition to replacing nearly 70 LED fixtures and 58 eight-foot strip light fixtures. In June 2022, we upgraded the Friendship Centre's lighting at their downtown location as well that included roughly 80 fixtures.
"We have had really good retention at this branch and I believe this is due to the culture we have been able to create here" comments Shawn Loiseau, Area Manager to Grande Prairie. "Many of our employees have been around for 10 – 25 years and everyone is treated like family. The level of care this company provides to its people is what allows us to exceed expectations with our clients each and every day and makes me proud to be a part of this team."
For further information please contact:
Laryssa Yakiwchuk, Marketing and Communications Manager, PTW Energy Services
Tel: +1 403.247.5766; lyakiwchuk@ptwenergy.com