'We just wanted to help somebody who we can': The power in the kindness of strangers – Oleksandr's story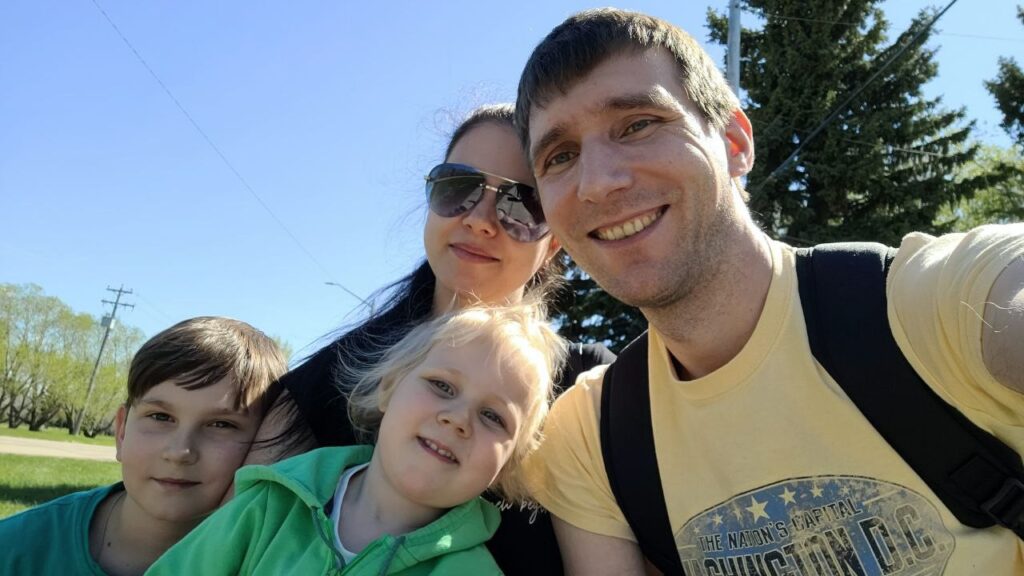 When Russia first invaded Ukraine on February 24th, 2022, Oleksandr (Alex) Okun, his Wife, Anna, and their two children lived in Sumy, a city in Ukraine situated approximately 30 kilometers from the Russian border. From their home, missiles could be seen overhead with the Russian military heard firing all around them. Desperate to flee the fighting, the Okun's gathered what they could in 20 minutes, anticipating to seek refuge in the woods.
The Okun's travelled to Romania and then to Hungary where they met with Olena Shevchenko, a family friend with connections in Canada. Olena's connections happened to be friends with Dennis Senych, our Vice President of Branch Operations, and his Wife, Jacqueline who quickly agreed to sponsor the Okun's.
"We didn't even take time to think about it" Dennis commented, "we just wanted to help somebody who we can".
The Okun's arrived in Canada and were immediately treated as part of the Senych family. The Okun's currently live with Dennis and Jacqueline and the Senych's helped set-up social insurance accounts, healthcare cards, bank accounts and cell phones. The Senych's also helped to enroll the children in school and daycare and continue to involve the family in their day-to-day lives.
Alex was also hired by PTW Energy Services and works in the IT department out of the Redwater, Alberta branch, where he re-builds and repairs laptops that would have otherwise been thrown away. In Ukraine, Alex was a high school teacher that taught his students the basics of computing and provided IT support to small companies. At PTW, Alex has been testing and assessing laptop parts from various devices to re-create a laptop that is then later used by our field users.
"Alex has added huge value to our department" says, Rob McDonald, Vice President of Information Technology. "Before, our teams were able to do basic computer repairs such as replacing batteries and installing new hard drives, but Alex has really taken that next step in helping us re-use some of our old computers that would have been destined for the trash." Alex has also been helping the IT team with various IT-related issues and eventually, Alex hopes to become an IT securities professional. "We hope to provide Alex experience with the PTW security monitoring systems so that he can develop those skills and grow his career".
"Working with PTW has been interesting and the people here are so open-hearted" comments Alex. "Everybody just wants to help us and is interested in our story. We were also fortunate to have met Dennis and Jacqueline who have helped set-up our life in Canada and have made the adjustment a lot easier".
For further information please contact:
Laryssa Yakiwchuk, Marketing and Communications Manager, PTW Energy Services
Tel: +1 403.247.5766; lyakiwchuk@ptwenergy.com