PTW Branch Operations feature of the week – Strathcona Refinery
Located in the heart of Alberta's Industrial Heartland, the Strathcona Refinery is widely regarded as one of the most advanced and dynamic refineries in North America. For 75 years, this cutting-edge facility has served as a critical hub for processing crude oil into a diverse range of top-quality petroleum products, placing it at the forefront of the energy industry. The refinery has a unique ties to World War II and the Canol project, which was established in 1942 to link a pipeline from Norman Wells, a refinery PTW also services, to the newly constructed Whitehorse Refinery, with the aim of aiding the war effort. After the war, the Whitehorse Refinery was dismantled and transported to Edmonton, where it served as the main refinery connecting what is now known as the Strathcona Refinery, to Leduc no.1, the first significant oil discovery in Alberta. For over 20 years, PTW has been providing its electrical and instrumentation (E&I) maintenance services to the Strathcona Refinery with many of our employees at site since before PTW was hired to support. The majority of our crew have well over 5 years on the site, with more than half of the employees servicing the facility for a decade or more, making us well positioned as the site's E&I supplier of choice.
In addition to daily maintenance, the crew assists the refinery on small construction projects, fiber optic installations and maintenance, annual turnaround projects, engineering design for small projects, MI cable splicing services, and rope access electrical maintenance work. One of the unique aspects of our services to this refinery is our ability to provide rope access electrical maintenance services, which requires our crew to work suspended from ropes vs setting up scaffolding. This technique allows for safe and efficient repairs of MI cable, EHT, lighting, and cable tray installations and the use of it has been becoming more popular in the industry. Our team has become highly skilled in performing this task.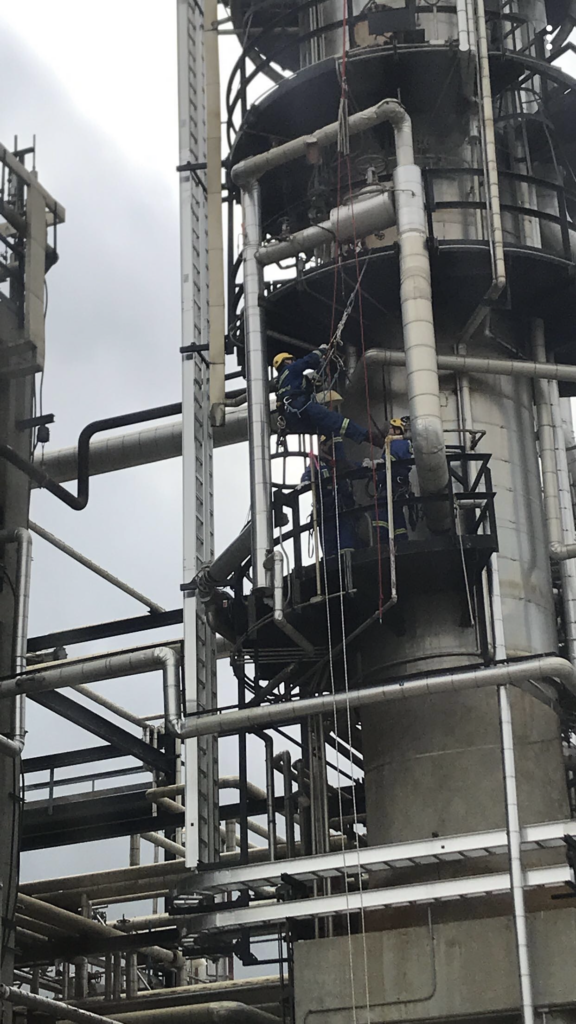 The team is currently working on a large shutdown project that will last for eight weeks, comprising work in six operating units. The team has been working alongside 2300 other workers on-site for this turnaround, with the E&I scope estimated at 40k hours from pre to post turn around.
For further information please contact:
Laryssa Yakiwchuk, Marketing and Communications Manager, PTW Energy Services
Tel: +1 403.247.5766; lyakiwchuk@ptwenergy.com