PTW Branch Operations feature of the week – Calgary
Located in Rocky View County, Alberta, our Calgary branch assists clients with custom design/build electrical integration packages for MCC's, process buildings and renewables.
Our branch is unique for its modular capabilities and provides in-house estimating, project management and document control services that work to efficiently manage each stage of a project. Because of this, clients can expect only one point of contact throughout the project's lifecycle, allowing for consistency at every stage. We can also offer site commissioning and start up assistance for all projects completed out of the Calgary shop.
A few of our employees are certified in fiber optics and can provide infrared scanning, splicing and termination support to client operations. Through infrared scanning, we can assess and evaluate faults and provide our recommendations. We are competitively priced and offer our services to mitigate issues that are captured during the scanning process.
Our crew is incredibly busy and to help us with our workload and continue to provide new and current customers with our undivided attention, this branch has a Manpower Sharing Agreement with Enerflex that enables our team additional workers to assist in completing projects. Most recently, the Enerflex team collaborated with us to rebuild a compressor for a client.
This branch is also involved in a collaboration with our structures team to assist a blockchain client build and power double stacked buildings. This is a multi-year project that once complete, will be used by our client to house their cryptocurrency mining technology.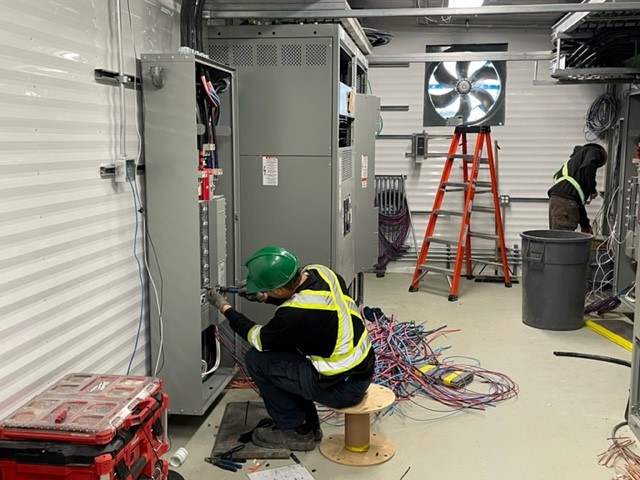 "Our team consists of highly skilled individuals that in my opinion, are some of the most capable in the industry" comments Mike Zugelder, Calgary Area Manager. "We have a fantastic team that gets along really well and everyone strives to work hard while supporting one another".
PTW has a Company-wide Green Hand and Mentor program that mentors new or new-to-industry tradespeople to PTW, recognizing that these workers are at a significantly higher risk for injury or occupational illness while on the job. Under this program, these new employees are provided a green hand sticker and assigned a mentor, where that mentor is tasked with training, observing, and assisting the new employee in understanding work procedures and safe work practices. After some time with PTW, the new worker will be required to complete and pass the Safe to Work Checklist to remove the green hand sticker.
For further information please contact:
Laryssa Yakiwchuk, Marketing and Communications Manager, PTW Energy Services
Tel: +1 403.247.5766; lyakiwchuk@ptwenergy.com